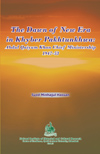 Read Entire Book Online...

Book: The Dawn of New Era in Khyber Pakhtunkhwa: Abdul Qaiyum Khan Chief Ministership 1947-53
Author: Syed Minhajul Hassan
Price in Pak Rupees: 600
ISBN: 978-969-415-111-3
Order @: salesbook@nihcr.edu.pk
Up to 50% discount...
The book is an addition to the scarce knowledge about the history and politics of Khyber Pakhtunkhwa after the creation of Pakistan. Most of the books, written on the history of Khyber Pakhtunkhwa, deal with the pre-partition era. This book is focused on the administration and politics of Abdul Qaiyum Khan when he was the Chief Minister of the province from 1947 to 1953. Since he came into power immediately after the creation of Pakistan there were so many issues which were not only important but controversial as well.
The author of the book has tried his level best to be impartial about the details of events and political developments of the period although some may not agree with the findings of the author. It is possible because though Abdul Qaiyum Khan was able to nurture love and admiration for his policies from some, he also evoked extreme hatred and criticism for his administration and politics from others. The book is an effort to analyze his rule of the province without any bias or likes and dislikes.
Dr. Syed Minhaj ul Hassan is Professor of History at the Department of History, University of Peshawar. He has also worked as Scholar, Quaid-i-Azam Chair at the Department of Government and International Studies, Hong Kong Baptist University, Hong Kong from 2010 to 2015. He has studied in the University of Peshawar, Pakistan, and Eastern Washington University, Cheney, United States of America. He has been associated with University of Peshawar since 1986. His research interest is in the history, politics and foreign policy of Pakistan. Besides that he also specializes in the history of Pakhtuns of Khyber Pakhtunkhwa, Pakistan. He has served the University of Peshawar in many administrative positions as well such as Chairman Department of History, Provost, Chief Proctor, Proctor, Warden Students' Hostel, In-charge Department Students' Affairs and Semester Examination.
He has to his credit dozens of research articles in research journals of both national and international level. He has co-edited a book titled, "Pakistan-Iran Relations in Historical Perspective". He has also co-authored a book in Urdu on Pakistan Studies. He has contributed chapters in many books written on the history and politics of Pakistan and the Pak-India sub-continent. He has participated and presented papers in more than 40 national and international conferences around the world. He has also delivered numerous special lectures at many national and international universities and institutes on different topics.