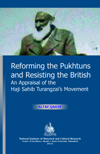 Read Entire Book Online...

Book: Reforming the Pukhtuns and Resisting the British: An Appraisal of the Haji Sahib Turangzai's Movement
Author: ALTAF QADIR
Price in Pak Rupees: 300
ISBN: 978-696-415-110-6
Order @: salesbook@nihcr.edu.pk
Up to 50% discount...
The Colonization of the 3rd world resulted in the replacement of the old socio-political institutions in the colonies and India had no exception. Being a peripheral region like few others, the North-West Frontier of Colonial India was granted a different status. Haji Sahib Turangzai, one among others, tried to revive some of the traditional institutions to resolve the problems of the inhabitants of his area. Not university graduate but traditionally educated Haji Sahib started a movement which was first of its nature among the Pukhtuns. He tried to resolve their mutual differences on one hand and educate them on the other which he had realized was need of the time.
Narrating the history of the Haji Sahib Turangzai Movement, the book takes perspectives from the immediate localities of the Pukhtun region and elaborates the phases of success and the failure of the movement. It attempts to evaluate the impact of the Movement and at places compares with the present-day resistance movements of the area.
The book is unique due to the use of historical information and narratives from original texts written in regional languages, especially Pukhtu.
Altaf Qadir is Assistant Professor, Department of History, University of Peshawar, where he joined as a lecturer in 2005. He is a Life Member of the Pakistan Historical Society. Qadir served as Lecturer in history for about three years in the Department of Higher Education (Colleges), Government of former North-West Frontier Province.
Qadir regularly contributes to the peer reviewed academic journals. His area of research includes religious reformism in Northern India and Religious Mobilization in the Pukhtun Region. Qadir has also authored Sayyid Ahmad Barailvi: His Movement and Legacy from the Pukhtun Perspective.